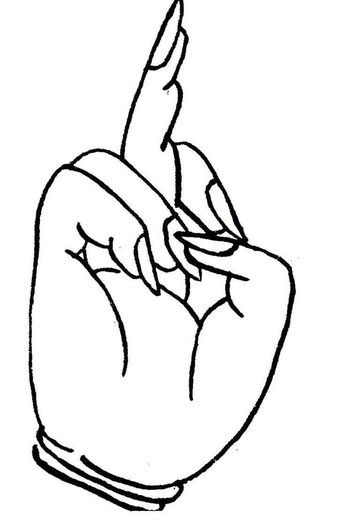 出自:郭明義著《一貫道的修持觀》 Lily Zhang 翻譯

Q: Why do Tao transmitters use their middle fingers when pointing at the Wisdom Door in the initiation ceremony?

中指有「中道」的意味,而且在我們手指的生活習慣中,「大拇指」象徵「好」、「讚」………。仍是有所分別對待而不是中庸之道。

A:In China , middle fingers mean the Middle Way . In daily life, our thumbs usually symbolize "good" or "great." It has the meaning of differentiation, not the Middle Way .

而「食指」則多在指責、喝叱別人時所用,象徵是非、嗔忿,「無明指」則是最不靈活的一個手指,用來點道太不方便,且有「無明」的意味,「小指」則用在輕蔑、藐視人時,自然更不宜用來點道。

Index fingers are usually used to blame other people. It symbolizes the ideas of right and wrong, or anger.

Ring fingers are the most inconvenient fingers, so it's not suitable to use them. Also, they have the indication of ignorance.

Little fingers are often used when looking down upon or despise others, so they mean disrespect.

而「中指」無論在使用方便上及象徵意義上均合於中道,故點道時用中指。這是後學一己之見,至於祖師設立儀式之初,是否有其更深刻的含意,後學不得而知。

No matter in convenience or symbol, middle fingers will be the best because they indicate the Middle Way . That's why Tao transmitters use them when pointing at the Wisdom Door in the initiation ceremony.

Here I just express my ideas about using the middle finger. Whether our ancient masters had deeper meaning to use the middle finger is beyond my learning.

這幾年美式文化入侵,許多年輕人對中指有罵髒話的定義,這是祖師降道、傳道時所始料未及,但是這只是這個時代,短暫的、地域性的潮流,傳道是天長地久的,不能為一時的潮流而改變。

In American society, many young men use their middle fingers to express dirty words recently. This is totally contrary to ancient masters' original ideas of the Middle Way .

However, this is just a short term trend during this decade. Tao transmission should be passed down generation through generation, so it won't be changed by any temporary custom.

也許再過十年二十年時代潮流轉變,中指又有另外的定義,所以我們只要知道我們點傳時,中指是象徵中道就夠了,不必去想在別的國家,中指是什麼意思。

Maybe ten or twenty years later, middle fingers will have other meanings. Therefore, we just need to know the middle finger means the middle way in Tao ceremony. We don't need to care about what it means in other countries.

在佛教密宗的「安座付法手印」,和點道時點傳師的手勢完全相同。我們點道也是在為自性佛安座,同時密付心法。

In Tibetan Buddhism, one mudra is completely the same as Tao transmitters'. When they point at our Wisdom Door, they are also settling up our Buddha nature in the best place—the Wisdom Door. And we also receive the Dharma of Maitreya Buddha.