延伸閱讀:王祥安講師分享 -- 道真理真天命真的見證(起死回生從鬼門關前走出來的楊兄)
活著真好~
楊兄撰寫個人親身經歷
來表達對天恩師德的感恩
以及求道、修道的可貴
It's good to be alive~
Brother Yang writes about his personal life experience to express gratitude and appreciation for
Heaven's Grace and the Masters' Virtues, and the preciousness of receiving Dao and cultivating Dao.

*以下內容是由 楊兄仕全 親自撰寫:

Below are the words of brother Yang: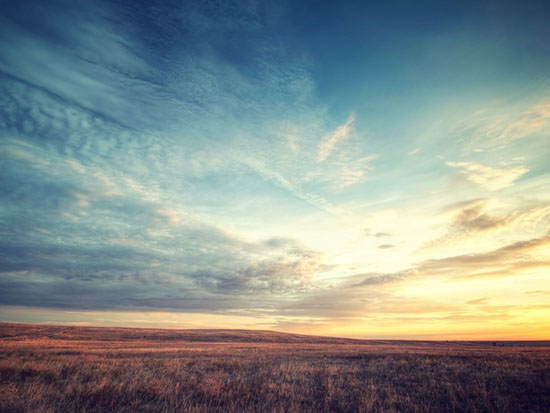 活著真好
It's good to be alive. A Dao kin of Hsinchuang (Taiwan)
Chi-Te Temple ~Mr. Yang~ from dead to living again.
昨晚,濟公老師從大門進來,在工廠裏到處走,到處看。

扇子搖啊

~

搖的

~

;又從大門離開。
我可以看見祂 ,容光煥發,
氣色很好,很高大的身軀,但是卻瘦到皮包骨
很奇妙的感覺,
寫到這裏或是看到祂的時候,眼睛裏竟然是濕的。熱淚盈眶。
Last night Ji-Gong Buddha came in through the front door of the
factory and wandered around looking everywhere, fanning and
fanning, then left through the front door again. I could see him, all
radiant and smiling, with great complexion. A towering figure, yet
so emaciated and thin. A very fantastic feeling. When writing this
or seeing him, my eyes would unexpectedly moisten. I am
extremely moved.


我把這事告訴了 蔡點傳師,經過他的慈悲指點與鼓勵,

後學才有這勇氣寫這故事,哪怕是後學的文筆造詣並不好。
I told Master Tsai about this, and only by his mercy and
encouragement do I have the courage to write this story.
But I'm afraid that my penmanship is not very good.


父親好賭,放浪成性,放一妻四兒於不顧,導致在後學15歲國二升國三那年,
後學的母親就因為過勞,中風而死…… 所以後學對父親是一直懷恨在心的,
也因為這些因素導致後學國中畢業後,就一直在社會上打混;沒有文化、
沒有一技之長,也就只能是在社會的邊緣過活……在很小的時候,
也忘了是什麼時候,
後學的母親(我們是草屯人)就曾經帶我們四兄弟到道場求道,
參加法會……只記得那裏有很好吃的飯跟水果,並且不限量供應,很多人,
很熱鬧,還有"神"會和大家玩(三才借竅) 這是我第一次接觸一貫道,
由於年紀太小記憶不完全……
I was born in a troublesome family... My father was a gambler, unrestrained/immoral was his nature. He didn't
take care of his wife and four children. This led to my mother's death from stroke due to overwork and stress
when I was 15 years old (in high school)...That's why I've always harbored hatred and resentment towards my
father, and it is because of this that after I graduated from high school, I would become a hoodlum. I was uncouth,
without skills, and could only live on the fringes of society... When I was very young (can't remember exactly when),
my mother (we are from Nantou) took her four boys to receive Dao and attend a dharma class.... I only remember
that there was good food and fruits, seemingly unlimited offerings, lots of people, a very lively gathering. And we
were also entertained by "divine beings" (channeling through the three talents/mediums). This was my first
encounter with Yi Guan Dao (I Kuan Tao), but I was too young to remember everything...

第二次接觸是在台中的時候,是1994年(21歲),那時候我的前妻懷孕,
就想說別在外面……跟人「你兄我弟」的過日子,找個正經的工作吧。
當時的我很愛玩車,對車有興趣,就想說 來去賣車好了。
由於前不久才買了一台新的標誌306,在購買的當時,比較了幾個廠牌,
My second encounter was in Taichung in 1994 (I was 21 years old). At the time, my ex-wife didn't want me to live
like a hoodlum, wanted me to get a decent job. At the time I was very interested in cars. So I thought maybe I could
sell cars. Not long before I bought myself a new car (model 306), after comparing various brands and models.


把名片翻了起來……看到台中大理(總福汽車)的業務員-簡信忠(簡兄),
雖然看車後沒有跟他買車,但對他的印象不錯。直覺是個可以交朋友的人;
就打了電話告訴他──我想去賣車好不好?他當然很歡迎......
就這樣跟簡兄成了同事,他對我照顧無微不至,我一個沒有文化的流氓,
什麼也不會,又很難跟人溝通。他很盡力的教導後學------車子怎麼賣?技巧在那裏?
不厭其煩的告訴我"所謂的話術,賣車的話術",並且當他值班的機會,他會讓給我,
讓我再值班。值班是一個賺錢的大好機會。因為購車者會來展示間看車。才有客源。
那段時間,簡兄經常會說,要請我吃飯。但我不太願意。因為他是全素的。
我深想:山珍海味如此美好!!是頭殼壞掉,才會去吃素!!所以有點反感。
並且知道簡兄是一位 一貫道的忠誠信仰者,他也三不五時的叫同事們跟他去道場求道。
I flipped the business cards from the dealerships and saw the name on the back--Mr. Chien (brother Chien).

Although I didn't buy the car from him at the time, I remember having a good impression of him. I felt that we
could be friends. So I called him and asked if I could sell cars. Of course, he welcomed me. This is how we
became coworkers. He always looked after me. I was an uncouth hoodlum, didn't know how to do anything,
and had difficulty communicating with people. But he earnestly taught me how to sell cars, taught me the
skills of the job. He tirelessly told me how to make a sales pitch. Furthermore, when he was on duty, he
would give me the opportunity to make the sale. Making the sale is the best chance to make money. Only
when people come to see the cars do can we complete a sale. During that time, Mr. Chien would always
invite me to eat out. But I wasn't too willing, because he was a vegetarian. I thought, nature has provided
such great things to eat, only someone who's head isn't screwed on right would be a vegetarian! So I had
a bit of a negative reaction. Moreover, I knew that Mr. Chien was a devoted Dao kin, firm in his belief. He
was not shy about asking his coworkers to go with him to the temple to receive Dao.

由於感覺欠他人情。他又經常提起,不得已只好答應他,
Because I felt I owed him a favor, and because he kept inviting me, I had no choice but to go along. So I went
with him to the temple and attended a dharma class (this is the second time). Afterward, because I was still
a hoodlum at heart, it wasn't long before I stopped working at the car dealership. I returned to my old habits
and lifestyle of hanging out with the hoods. Dealing with the ups and downs, the good and bad of life.

2004年的10月,後學回到台中,日子是時好時壞,
2007年實在是走頭無路,老婆跟1歲多的兒子也在身邊。
只好再想辦法。就想上去臺北,去我那個沒有天良的父親那裏。
至少可以不用付租金,有個落腳的地方住。找個工作再開始;
In 1999 I went to China, married a lady from Chongqing. In October 2004, I returned to Taichung. Life was good
at times and bad at times. In 2007 I was living aimlessly, with my wife and one year old baby boy by my side. I
had to think of a way to improve our lot. So I thought of moving to Taipei to live with my unconscionable father.
At least I wouldn't have to pay rent, have a temporary place to stay. I would make a fresh start after getting a job.
When I arrived in Taipei, I never called my father "dad" or "father"--I would only address him with "hey."


每天下班,回來就洗澡洗乾淨,穿襯衫整齊衣物後出門。
I found a job in the supermarket selling fruits. Every day I would work 12 hours, my wife would care for the baby
at home. There were many scriptures placed on the table at home, and I would sometimes pick one up to read.
Seeing the word "grace" I knew these were Yi Guan Dao books. I would also observe my father: every day after
work he came home and took a shower, dressed up and left again. Actually, we never really had a conversation.
I hated him. He clearly knew this. He really wanted to talk with me, but I would just ignore him.


有一天,我突然問他:你下班後穿的那麼整齊是在做什麼?
他說:我去佛堂上新民班。去佛堂幫忙。去道場幫忙啊。
我說:哦, 一貫道哦。
他回答:是的。
去求什麼道,修什麼道。都還是沒有用。還是一樣的不知道。
之後,我們還是沒有在交談過。他做他的事,我也忙我的事。
可以把一個近60歲的人,一個放浪荒唐一生的人徹底改變成這樣?
One day I just asked him: After work you dress up to do what?
He said: I go to the temple to listen to the new members' class, and I help out at the temple.
I said: Oh, Yi Guan Dao.
He said: Yes.
I asked him: Are you still gambling? If you're still gambling, what use is it to receive Dao, to cultivate Dao?
You still don't know/understand.
He said: Since attending these classes I had stopped gambling. I've seen clearly the true principles,
wholeheartedly repented in front of Holy Teacher (Ji-Gong Buddha). Afterward, my father and I still did not
make conversation. He went about his business and I went about mine. But I was watching him, thinking
could this Yi Guan Dao be so great that it would be able to transform a 60 year old man from his long
uncaring ways to the way he is now? And becoming a vegetarian on top of that? If so then this "Dao"
must be the real deal!

後學在家跟小孩玩了一天。想說去看看 是不是真的就他所說的 是去道場。
他一樣下班回家洗澡後,準備出門。我說:我跟你去看看一貫道吧。
一上去到佛堂,我看見一個人坐在那裏翻資料。一眼認出他,
簡兄抬頭看了看我;你是......很面熟.......
後來跟你當同事去買車的阿全啊……怎麼了,想起來沒啊?」
並介紹我:「這是我們新民班的簡講師……」指著簡兄;
就這樣,回家後,後學心想:真有那麼神?這個道是真的耶!!
一個相隔20年的人 - 我的引保師 簡兄---在斷了聯繫的20年後,
在我又想重新認識一貫道的時候。他竟然就第一時間出現在我的面前!?
這樣的事只有老師能辦到了,我開始相信一貫道的---道真.
One day, I think it was a Wednesday, I had the day off work. I was at home playing with my son all day.
I wanted to find out if my father really went to the temple. As he always does, he came home and took
a shower, prepared to leave. I said: Let me go with you to check out this Yi Guan Dao. He was elated
and took me to Yin-Te Temple. When we got to the temple, I saw someone sitting there looking over
some materials, and I recognized him, saying loudly: "Mr. Chien, how come you're here in Taipei?"
Brother Chien stared at me and said: You look familiar.
"It's me! Ah Ch'
ü
an. Do you remember? I didn't buy the car from you, later I was working with you selling cars.
Now do you remember?"
Brother Chien said: "Ah, now I remember."
My father said: "You two know each other!" then saying to me: "This is our class lecturer, Mr Chien..." as
he pointed at him.
So like this, after returning home I was thinking: There really are divine beings? This Dao must be the real
deal! What great force can transform such a person (my father) to be kindhearted and vigorously involved
in the Dao. After twenty years, my introducer (brother Chien) would be the first person I would meet at the
temple just as I was thinking about reacquainting myself with Yi Guan Dao again. This kind of coincidence
is something that only Holy Teacher can arrange. Then I started to believe that the Dao is true.

幾天後,在黃月雲講師(我一直最感激她,對我的家庭的幫助。
在她的幫忙下,我的父親才能走進一貫道,成全我有一個完整的父親)的幫忙下,
帶我的老婆跟兒子去了許氏佛堂,由蕭點傳師點道,後學的老婆兒子也順利求道,
After a few days,
with the help of Lecturer Huang (I am always most grateful to her for helping my family--
it was with her help that my
father would walk the path of cultivation to become a more complete father),
took my wife and child to a family temple to receive Dao.
When I have time off, I would sometimes go to
Chi-Te Temple.
但我心裏對他的恨,還是那麼多。無法開口喊他:爸爸.
2008年04月,由於老婆都是一個人帶小孩,我需要上班,
所以她會無聊會想家,想重慶。經常會碎碎念,我也知道不是辦法,
來臺北一年多就剩個幾萬元。有天去記德的時候我告訴了老師,
很巧合的一個賣水果的同事坤哥也在這時辭了工作,
我們就一起研究做個什麼生意,
他說有個老阿姨 告訴他:
他的姐姐的兒子在買窗簾.門簾.居家布藝品.很賺錢。
要我們參考看看,去跟他進貨來賣。我跟昆哥就找上了這位黃老闆。
看了貨。談了事。回家後,我告訴昆哥:把貨拿到大陸賣的想法。
於是我就說:那我自己回大陸做,我盤算了我的資金,就2萬多點。
我想了一個晚上。隔天帶著這麼丁點的錢去中和找黃老闆
告訴他我的想法以及我的做法。
After this time, I started having some simple conversations with my father. But I still harbored a lot of hatred
for him. I was unable to call him "dad" or "father." In April 2008, because I had to work, my wife was always
taking care of the child by herself. So she would think of her home in Chongqing and would constantly remind
me. I knew this wasn't working, making only NT$40,000 (about $1300) a month with three mouths to feed. I
wasn't able to save much if anything. After moving to Taipei for over year, I only saved about NT$20,000 or so.
One day I went to Chi-Te Temple and prayed to Holy Teacher to give me a way out of my predicament. Not a
few days later, I bought airline tickets for my wife and son to go to Chongqing and told them: Why don't you go
back for a while, and I will think of a way to make a decent living for us. I also quit my job just as a coworker
(Mr. K'un) also quit his job. So we both pondered what kind of business we should start. He said an old lady
once told him that her sister's son was selling window and door curtains and other ornaments. She said it was
good business, that we should consider it. We would buy the imported merchandise from him. So we went to
see boss Huang. We checked out the goods and discussed business. After returning home, I told Mr. K'un my
idea of selling the merchandise in China. Mr. K'un was in his forties and had to take care of his mother, so he
couldn't agree to this. So I said I would run the business in China. I calculated how much capital I had, it was
only about NT$20,000. After thinking about it overnight, I took my meager savings and went to see boss Huang
to tell him of my plan.

我說:「我就這麼點錢跟你進貨,你幫我寄到我重慶的家裏,
我回去重慶用網路賣。你不要擔心我,放心把貨給我,如果我失敗了,
我回來臺北上班打工還你錢。
30萬的貨讓我欠。我一個月能賺3萬的話還你2萬。」
I said: "I only have this small amount of money to import your merchandise, you can ship it to my home in
Chongqing. I will go there and set up an online store to sell the goods. You don't have to worry about me,
just give me the merchandise. If the business fails, I'll return to Taipei and work off my debt to you. Lend me
NT$300,000 of merchandise. If I make NT$30,000 a month I'll pay you back NT$20,000." I couldn't guarantee
the amount, as this was only our second meeting in two days.


I never thought that he would agree to my plan!
誰可以告訴我:這是怎麼的一回事?
我沒有錢!沒有準備!沒有路!
一切的一切完全沒有,
就在老師跟前告訴祂 給後學一條路,一條正道的生意路,
難道是 用凡人的心或手段 或是天機算盡 就能算計的來嗎?
Who can tell me: How is this possible? I had no money! Wasn't prepared! I had no way to go! I had absolutely
nothing. All I did was ask Holy Teacher to give me a way, a way of proper business, to let me transform my
family's life, to walk a path of life that I can be proud of. So the road to a new start on life was neatly arranged
and appeared before me. It just required my diligence in walking down this road. If this is not because of Holy
Teacher's help, could it have been ordinary person's mind or trick or fate that created this plan?


在2008年的6月,我順利回到了重慶,
雖然資金有限卻也於07月01號
順利在淘寶網上面開了店,專門賣臺灣的門簾,
在跟老婆商量後,又再度回到臺北,找了份在賣滷味的工廠上班,
晚上3點半上班到隔天下午16點,每天現領1500,拿1000元去還黃先生,
自己留500元。回家又開電腦做客服(17點~21點),
讓看店看了一天的老婆可以有時間休息並處理家裏的其他事情;
直到有1次休息,我遇朋友出去喝酒,喝到淩晨醉倒不醒人事才回家。
30多年來我在外面受的氣,我媽媽的死,我們兄弟所受的一切的一切........
其實我自己也忘了那晚的事情,只記得他跟我對話、吵架,到2人都在哭。
In June 2008 I returned to Chongqing, even with my limited capital on July 1, I set up an online store on TaoBao
specializing in selling Taiwan-made door curtains and ornaments. On August 20, because I was low on capital
and didn't plan things all that well, after discussions with my wife, I returned to Taipei, found a job at a factory
that made marinades. I worked from 3:30am until 4:30pm making NT$1500 (about $50) a day, using NT$1000
of that to pay back boss Huang, and keeping NT$500 for myself. When I got home I would perform customer
service work from my computer (5pm-9pm), so that my wife who has been looking after the online store all day
can take care of other household matters. When I had time I would go with my father to Chi-Te Temple. I still
would not address him as my father, until one day I went out drinking with friends and came home totally drunk.
That night I had an argument with my father, letting out thirty-plus years of pent-up feelings and anger, including
my mother's death, my brothers' suffering, etc.... But I really don't remember much from that night, only
remembering that we had a dialogue and argument until we both were weeping. I still had to ask him what
actually happened that night.

心中對他的怨對他的恨,一股腦的全都消失的無影無蹤!
我走出房間,他倒了杯水給我喝,我突然叫了他一聲:爸。
他整個人呆住,定格在那裏!應該是想:我沒有聽錯吧!!
是什麼人有這樣的能力或度量,可以把長達30多年的恩怨,這般輕易的化解掉?
The next morning, I don't know why, but all my hate for him disappeared completely! I walked into the room,
and he poured me a cup of water. I suddenly called him "dad." He was completely stunned and speechless!
He must have been thinking: Did I just hear what he said? What kind of person has such great ability or
tolerance to so easily dissolve thirty-plus years of resentment? It must be none other than Holy Teacher who
helped make my family whole again.

2009年的2月,正月初五,父親帶我去瑩德佛堂開法會,去做義工。
也順便再聽一次法會。離開時,
我去老師跟前 告訴他,我在重慶開網店的事情,
In February 2009 (fifth day of the first lunar month), my father took me to Yin-Te Temple to attend a dharma
class, to help out, and also to listen to the classes again. Before leaving, I told Holy Teacher that I opened an
online store in Chongqing, and asked if he could help me. If my business could pick up, I want to set up a
temple in Taiwan and learn to cultivate and propagate Dao.


最高一天有5700人民幣的零售收入。這年我的太歲年(我屬牛)。
一切都是這般的順利,到了2010年的01月20號,
根本就不怕他們(心想才2個人)的對他們喊叫:搶劫~~搶XXX~~
我大剌剌的向著他們走過去,突然我的背後,我的雙手被人從背後架住,
心想:糟糕~不止2人。只見前面的2人提起匕首走了過來往我的右大腿刺了進去,
下方拉了一條13公分的傷口,傷到股神經,
左膝蓋動脈也被刺斷;
斷了2條動脈1條靜脈,加上我喝了很多酒,
人在1分鐘或幾秒內就會因失血而休克,而進入死亡狀態。
當時是在停車場,整個過程都被監視器記錄了下來,
還清晰的看到殺我的5個人的臉。
A few days later I returned to Chongqing, and amazingly business had picked up. Among the millions of
online stores on TaoBao, it was hard to imagine that my business would start booming. The best day had
5700RMB (about $800) of revenue. This was my year (year of the ox). Everything was going so smoothly.
On January 20, 2010, I went with my wife's uncle to Chongqing's bustling market for drinks, and we drank
until the market closed at 10pm. As I went to the parking lot, two young men wielding knives approached
and said: this is a stickup!
Due to the drinking and my past as a hoodlum, I wasn't afraid of them (there were only two of them) and told
them to get lost. I stubbornly tried to walk past them. Suddenly my hands were pulled behind my back. I'm
thinking: uh oh, could there be more than two of them? The men in front came at me and one stabbed me
in my right thigh. I don't remember anything after that. Afterward, the doctor said my right thigh major artery
and vein had been severed. Below was a 13cm wound that damaged a nerve. The artery in my left knee
was also severed. Two arteries and one vein were cut, and on top of that having drunk a lot of alcohol,
a person would lose a lot of blood within a minute and go into shock and be close to death. This was in the
parking lot, and the entire event was recorded by surveillance cameras. The faces of the five assailants
could be made out clearly.

也不知道什麼時間,我突然看到躺在地上血灘裏的自己,
被4個兇手把我的肉身抬到一輛車子的右後輪下,5個人就離開了,
我聽不到市區繁華的聲息,但就像看電視般的可以看到一切,
突然間我感覺我的「靈」在做「三寶」向天在祈拜,是潛意識裏自動發生的行為。
一切都很安靜,聽不到任何的聲音,「靈」一直在做「三寶」。
That day was very cold, only 3 degrees C. I don't know what time it was, but I suddenly saw my body lying
in a pool of blood, then four people moving my body to behind a car's right rear wheel. The five assailants
then left. I couldn't hear the bustling sounds of the city, but it was like watching television, I could still see
everything, from midair looking down at everything. It must have been my "soul." Suddenly I felt my "soul"
using the "three treasures" praying to Heaven. It was an automatic response by my unconscious mind. It
was very peaceful, I couldn't hear anything. My "soul" continued to use the "three treasures."


不知道過了多久看見一個路人,因為地上的血跡,而發現死亡的我的肉身,
(事後在監視器記錄:我在被殺後的1個小時27分鐘後被抬進救護車送往醫院。)
I don't know how long afterward, I saw a passerby, because of the pool of blood he found my dying body.
After he made a call on his cellphone, he came over and looked at the body. Not long after, I saw an
ambulance and police cars arrive. They put my body on a stretcher and put me in the ambulance. I still
couldn't hear anything, but I could see everything. (From the surveillance recording: it was 1 hour and
27 minutes after being assaulted and left for dead that I was taken to the hospital.)

後面我看不到了,以下這段是我老婆跟員警所敍述的:
我被送到醫院後,警方在我的牛仔褲右邊的口袋找到整只泡血的手機,
手機竟然還能撥打。打了電話通知我老婆,起先我老婆以為是詐騙集團,
但她心想不對,詐騙集團怎麼會用我的手機號碼打給她!
我因為被刺斷動靜脈,失血過多,已經死亡(休克)長達1個多小時。
我老婆央求院方可否搶救看看?
院方告訴她:需要馬上繳交5萬人民幣的手術費用,
並告知他已經休克多時,可能是搶救無效,那5萬元就沒有了,
或因為休克缺氧太久,救回來變成植物人,要求她簽結切結書。
我老婆才打電話到處叫人送錢過來,又拖了1個小時左右
I could not see anything after that. The following part was related to me by my wife and the police:
After being taken to the hospital, the policeman found a blood soaked cellphone in the right pocket
of my jeans. The cellphone was apparently still in working condition. He called my wife. At first she
thought someone was trying to blackmail her. Then she thought it couldn't be as why would they use
my cellphone to call her? She then called back asking for the hospital and the hospital's number. After
confirming with the hospital that I was here, she got here as quickly as possible. When she got here
she saw my clothing had all been cut off. I was covered with a white sheet. The hospital staff told her:
because my arteries and vein had been severed, lost too much blood, my body was "dead" (in shock)
for over an hour. My wife pleaded with the nurse to see if I could be saved. The hospital staff said: you
must pay 50,000RMB right away for the surgery, but considering that he's been in this state of shock
for so long, it's possible that we can't save him. Or because due to the lack of oxygen for so long, if we
do save him he may be in a vegetative state. My wife was then asked to make the decision on whether
or not to revive me. My wife started calling everyone to send money over. This dragged on for another
hour or so.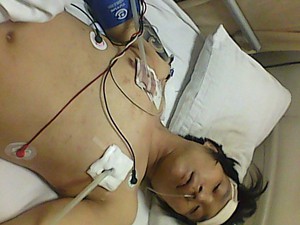 (Mr Yang in the ICU)

5萬元全部到位,存進院方。
才開始搶救已經死亡快3個小時的我(沒有呼吸,沒有心跳,血液也流乾了)。
我的"靈"突然又看見了一切,看見趟在加護病房床上的我,
醫生在我的胸口左右2邊打洞穿管(因被兇手殺後趟在地上,
還是聽不到聲音,但能清楚的從空中看到所有發生的一切,沒有時間感。
我看到儀器在跳動,有心跳。醫生走了。護士在擦拭我的身體。
不知道什麼時候又推進一個人進來搶救,也是沒有穿衣服,
是個年輕的女孩,挺漂亮的,我就多看了她幾眼!醫生護士忙的很。
之後,我看她的儀器變平形線,
醫生在用電擊搶救,儀器還是沒有跳動。
After the hospital received the 50,000RMB did they start resuscitating me after almost 3 hours of being
in shock (no breathing, no heartbeat, massive blood loss). My "soul" started to see again. I saw myself
lying on the hospital bed, the doctor inserted tubes into my chest (after being stabbed by the assailants, I
was beaten while lying on the ground causing blood to fill my lungs) to let the blood and Qi flow out. I still
couldn't hear anything, but I could still clearly see everything happening from midair. I didn't have any sense
of time. I could see the heart monitor indicating a heartbeat. The doctor left. The nurse was cleaning my
body. Some time later another person was brought in for emergency treatment, also without clothes. It was
an attractive young girl, I glanced at her a few times! The doctors and nurses were very busy. Afterward, I
noticed that her heart monitor showed a flatline. The doctor tried to shock her heart into beating again, but
still no pulse. The doctor left, giving up on her.


沒一會,我看見前面出現一團黑洞,走出來牛頭馬面!!!
很高大很祥和,憑空走到女孩的腳前,馬面的右手在女孩的肉身晃了一下,
我看見一個有人的輪廓的「靈」從她的肉身90度的浮了上來,
我突然想到我自己,我向他們喊叫(但我是聽不到一切聲音),
I thought she must be dead already! Not long after, I saw a black hole appear before me, then an ox-head
and horse-face demon (guardians of the underworld) came out! It was very big. It walked over to the girl's
feet, its right hand reached inside the body. Then I saw a human shaped "soul" emerge from her body
vertically. The demon's right hand threw a chain around the girl's hands, binding them. Then I thought of
myself, I tried to call out to them (but I couldn't hear anything), am I dead or what?

他們2個對望了一眼後又看了看我。
沒有理會我,就帶著女孩走進黑洞消失了。
第2次看見人死後,黑洞出現,我就趕緊對牛頭馬面喊叫,
接著執行他們的工作後離開;
我突然知道我死不了了,我不屬於他們的管轄。
They apparently could sense or see what my "soul" was calling to them about. They both looked at me but
otherwise ignored me. Then the demon took the girl and disappeared into the black hole. This scene played
out repeatedly: a person is brought in to the ICU, dies, a black hole appears, ox-head and horse-face demon
takes them away. I couldn't hear any sounds, and I couldn't move. But I could see everything happening in
the room. After seeing a second person die and black hole appearing, I quickly called out to the ox-head and
horse-face demon that appeared and asked the same question: Am I dead or what? It looked at me and
ignored me again. After it did its job and left, I suddenly knew I couldn't die, that they had no jurisdiction
over me.

在重症病房的3天裏面。這一幕我看到了7次。死了7個人。
有的時候能看見,我看到我老婆進來走到我的肉體的旁邊好像在跟肉體說話!
我看她很傷心留眼淚,我想幫她擦拭淚水,但我的靈與肉身都不能動!
我看到我4歲的兒子,他還在納悶為什麼爸爸趟在這裏,
我的靈好想伸手摸摸他並告訴他:爸爸會回來陪你長大成人,
有的時候 會知道「靈」在做「三寶」,在祈求老師讓我能再回到人世。
While I was in the ICU for three days, I would see this scene seven times. Seven people died. Ox-head
and horse-face demon came seven times. Sometimes I couldn't see. I could see my wife come in and
walk up to my body and seemingly talking to it. I could see that she was grieving and crying. I wanted to
wipe away her tears, but my soul and body wouldn't move. I felt very bad, letting a pregnant wife carrying
the burden of this unfortunate incident. My soul wanted to tell her: I cannot die, don't worry. But there was
no way I could make myself heard. I could only watch her grieve and cry. I saw my four year old boy, who
was puzzled as to why his father was lying on the bed. My soul wanted to reach out and touch him and
tell him: father will return to watch you grow up. But I was still unable to make myself heard. I felt my "soul"
was feeling bad. Sometimes I knew my "soul" was using the "three treasures," praying to Holy Teacher to
let me return to the living. I finally saw my body being pushed out. At that point I could no longer see anything.


在重症病房一天都是1萬多的醫療費用,我老婆看病情有好轉,
在第4天要求院方轉到普通病房。她說我還是半昏迷的狀態,
到了第六天才真正的清醒過來。才清醒過來跟老婆與朋友在聊天,
我父親突然從臺北打來電話(他並不知道)問我:怎麼了?我問他:誰告訴你的?
他說:是老師指點他。我回答他:哦!沒有事,我被殺死又活了過來,
現在沒有事了。不想他擔心,但也確實是沒有事了。
It costs over 10,000RMB a day for treatment in the ICU. On the fourth day, my wife, seeing my gradual
recovery, asked that I be moved to a regular hospital room. She said I was still in a semiconscious state
until the sixth day when I became fully conscious. Then while I was talking with my wife and friend, my
father called asking what was going on. I asked him who told him about my situation. He said it was Holy
Teacher who mentioned it. I told him it was nothing, I was almost killed but now am alive again. Now
everything is okay. I didn't want him to worry, but there was really nothing to worry about.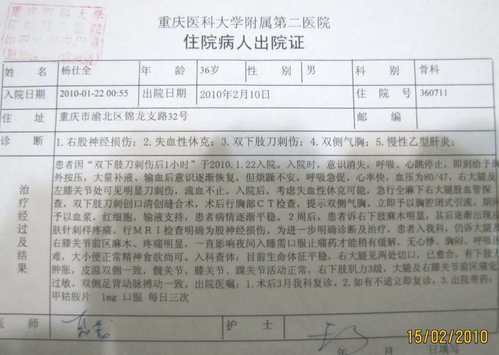 (Mr Yang's hospital discharge paper)

2010年08月我回臺北,經楊點傳師的慈悲開導。
才知道原來是老師的幫忙,把我的魂魄留在我的肉身內,
In August 2010 I returned to Taipei, and with enlightenment by Master Ching, I knew that it was with Holy
Teacher's help that my soul stayed with my body and could not leave it. Otherwise, I would have ended
up in a vegetative state. Because if the soul leaves the body, it cannot return. My return to Taipei was timely
as there was an upcoming dharma class, and I participated for the fourth time, this time wholeheartedly and
willing.

法會後,還是一樣去老師跟前 謝謝祂
並告訴祂後學事業上的困難,希望老師幫忙。
一切還是這般的順利,後學很慚愧,不能像前賢這般的在臺灣 修 學 辦道。
道真。理真。天命真。並且謹記於心---後學所對老師的發願,
後學也要在大陸,在事業之外 來認真的修 學 辦道,
都很支持並願意協助後學來完成這個心願,真的讓後學很感動。
After the dharma class, I bowed in front of Holy Teacher's (Ji Gong Buddha) statue and thanked him. I told
him of the difficulties of my occupation, hoping that Holy Teacher could help me. Everything is still smooth,
I feel so ashamed that I cannot be like my predecessors in Taiwan learning, cultivating, and propagating Dao.
This is something I need to work on, to learn from my predecessors. But I dare say: my experience with "Dao"
is very deep and profound. Dao is true, the principle is true, and Heaven's mandate is true. I will always keep
in my heart the vow I made to Holy Teacher. Besides my work, I also want to earnestly learn, cultivate and
propagate Dao in China. Many Chi-Te Temple predecessors know about my vow. They are all very supportive
of me in fulfilling my vow. I am very moved by this.


感謝 天恩師德
I thank Heaven's Grace and the Masters' Virtues


尤其是記德佛堂的所有的前賢。 成全後學一個事業,家庭。
感謝 黃姐、簡兄 藉這個機會謝謝你們二位。成全後學有一個 完好的父親。
要感謝的人太多了,後學只能以後在 修 學 辦道的功德
I thank all the Masters and predecessors who enlightened and helped my family, especially the predecessors
of Chi-Te Temple, for helping me with my work and family. I take this opportunity to thank sister Huang and
brother Chien for helping to transform my father into a good person. I thank my father, my wife and her family.
There are too many people to thank. I must wait until a future time before I can diligently perform and share the
merits with all of you.


謝謝

Thank you
---
*感謝碧宮講師轉寄信件
*感謝楊兄分享所有故事與照片
*
本網誌PO文者:秀玲
*感謝TAI前賢翻譯成英文版